Daria Johnson 4 at Stanford
My band will be performing at the Stanford Juneteenth Celebration!
June 22, 2pm
Stanford Clark Center Back Courtyard
---
DJ4 Rides Again!!
Greetings everyone! Got some fun shows coming up. Ending November with a awww yeah! I hope to see you all there.
Friday Nov. 30, DJ4 will be playing at the Hotel Utah with some great musicians!!
Clark Beckham has got the night. Otherwife will follow and yours truly will be closing the evening. Got some new tunes that I'll be trying out. It will be the first time these tunes will be played out. Come check them out!
Then...
The night before, Nov 29, Five Against Nature, the Steely Dan cover band I'm a part of with some amazing musicians, will be playing with our buddies No Captains at Milk Bar! Check it!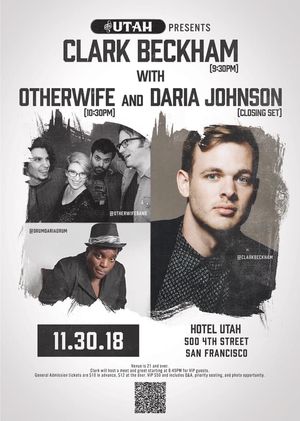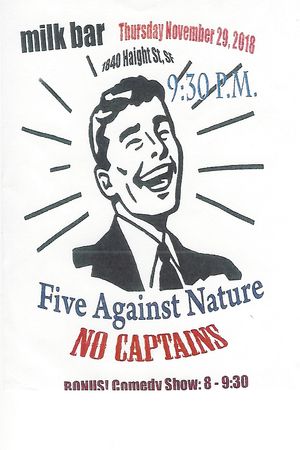 Can't wait to see you all there!
Check the calendar too. Lots of fun shows coming up and I wouldn't want yo to miss out.
---
Look Ma, I'm doing an amazing thing!
Hello, hello hello everyone! I am so honored and happy to be a cast member of a fantastic project. The impeccable Pamela Rose has worked long and hard to create a wonderful piece that celebrates the pioneers of the Blues. It's a theatrical concert called:
Hardly Strictly Bluegrass 2018
Hello hello hello!
It's been a while, I know. My apologies. Working on it. I hope you all will be heading to one of the best festivals ever in San Francisco. Which one? Why HSB of course! I'll be there playing with one to the most awesome bands that I have the pleasure of being a member of, Four Year Bender!!
Saturday, Oct. 6
Four Year Bender
Banjo Stage
11am
BE THERE!!
And did you know that Four Year Bender has just finished recording our next album? No? Do you want to be one of the first folks with it? You do? Well, check this out!
Four Year Bender - The New Record
---
Blues Is A Woman
The cast includes some of the Bay Area's most talented musicians whom I adore playing with. Pamela Rose is the lead singer, the incredible Tammy Lynn Hall is the Musical Director and pianist extraordinaire, the awesome Kristen Strom on horns, rock solid bassist Ruth Davies, and rockin' it out on the guitar is Shaunna Hall! This is a show that should not be missed.
The incredible Jayne Wenger is the artistic Director of this incredible piece. 
Only a few tickets are left, so please grab yours while you still can!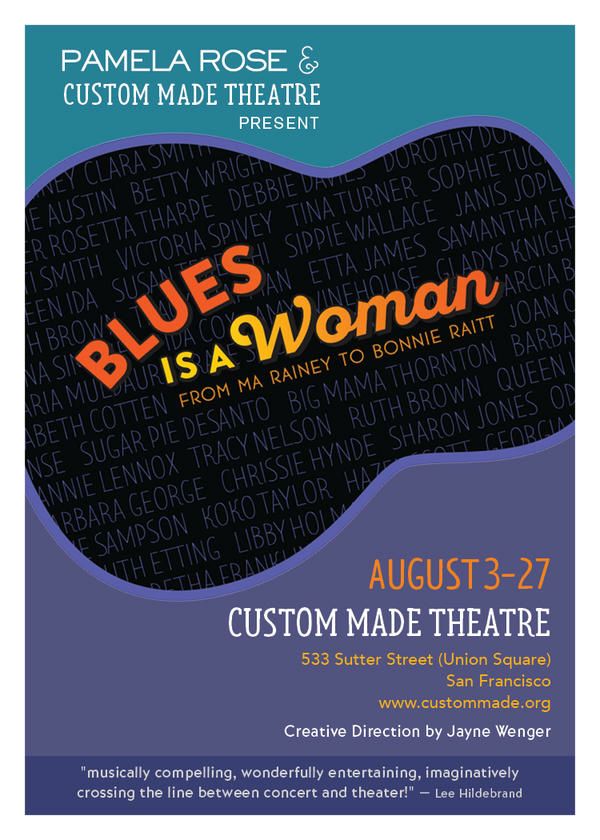 ---
Daria Johnson 4 plays Oakland!

Hello hello hello HELLO! Daria here and, oh  my, it's been a very long time. But before I go into why it's been so long, let me share with you some good news: The Daria Johnson 4 will be playing live at Crate in Oakland, CA! That's right. And I want YOU to be there.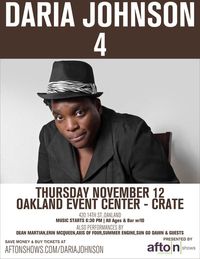 Daria Johnson 4
Thurs. Nov. 12
Crate - Oakland Event Center
420 14th Street
Oakland, CA
Show: 6:30pm
All Ages




DJ4 will feature the fabulous musicians:
Melissa Hubbell on bass
Chris Grady on trumpet and
Simon Rochester on keys

I am so juiced to be playing with  my good friends Melissa, Simon and Chris and I am so very excited for you the hear how well they can tear it up! I have some new music in store for you and you will be the first to hear it full band when you come to the show. I'll also be playing some favorites as well. Which ones? Well....come see!

There is a great lineup of bands that night that will pleasure the musical eardrums of many! It's not yet determined who is playing when, but here's the list of performers/bands:
Erin McQueen
Jason Daniel
Gianna Biagi and Guests
STEELNHAMMERS
Axis of Four
Dean Martian
Summer Engine
Sun Go Dawn
Genesis Fermin

Look at all that music! And if you buy your tickets today, you get the lowest price of only $11. That's right,  just $11 for ALL those bands! When does something like that ever happen??
Get your tickets now! It not only makes you coolest kid in town, it helps out DJ4 a ton by firming up our presence, showing the venue and the booker how much my fans are the best fans ever! And...well...you save money. Sounds like a win/win to me! And you know what else? It's an ALL AGES show!! That's right, bring the young ones and give them the gift of music! So really it's a win/win/WIN!
For tickets go to www.aftonshows.com/DariaJohnson

It has been a very eventual year or so for me and I apologize for being incommunicado. Life has been serving up some...challenging dishes and I've been trying to digest it all. I am believing and having faith that all will be ok. Sometimes you have to walk through the darkness and scary to get to the light and love. I know that this show will help with that.

And I also thought it was time do a little makeover to my website. It was time, I think.  It's also time for me to get my tunes together to make my album. Please stay tuned for news and updates about that.

Thanks for listening and looking forward to seeing you at the show!
 
---

Daria Johnson Four kicks off Mammoth's Tribute White Stripes Album Compilation!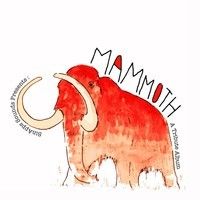 Do you love the White Stripes? Well so do the folks of SniApps as they gotten great independent artists together to celerate the 10 year aniiversay of the White Stripes' Elephant! They put a tribute album together and used my version Seven Nation Army to start the album off!

Check it al out here: Mammoth - A Tribute Album by SinApps - The White Stripes

 
---

Daria Johnson featured artist on Impose Magazine's 'This Week In Pop' by Sjimon Gompers

A wonderful interview of me about the upcoming show at the Great Americam Music Hall with Jonathan Richman!
Check out the link for more. But here's a little teaser from the article.
"Like the saying goes, many are called and fewer are chosen. Such is the case with Bay Area drummer and multi-instrumentalist Daria 'Shani' Johnson who was just selected by Jonathan Richman himself to open for him this coming Thursday, December 12 at San Francisco's Great American Music Hall. Coinciding with this excitement, Daria has kept us posted in the recent weeks about the demos she's been recording leading toward an upcoming album she has in the works, and after weeks of our bothering, inquiring, nagging, haggling, and begging; Johnson gives us one of the first listens to four of her freshest cuts." 
See link below.
Week In Pop: Daria johnson, Son of Stan, Teenager

 
---

The Daria Johnson Trio
Fresh and inspiring describe the new work of Daria Johnson. This genuine and versatile musician has brought together her songwriting, arranging, and performance skills with her drumming and singing to embark on a journey of musical distinction with her first independent project the Daria Johnson Trio (DJT). The music of the DJT is an incredible mix of jazz, soul, R&B and the unique expression of song. The trio plays original songs composed by Daria that speak from the heart and soul of her life experiences. Her voice is raw, her drumming sexy. With this trio, Daria keeps the energy alive and fresh so that each time you experience her, you want more.~

What a very exciting time! I have happily recorded  my demo for the Daria Johnson Trio and it is a wonderful catalyst for new beginnings and musical explorations. I've got 4 tunes for your eardrums and with a lot more originals and renditions of popular songs you may know for you at the live performances so I'm looking forward to seeing you there. I'm looking forward to recording my album by the spring of 2014 so be on the lookout.

Meanwhile I'm keeping busy with making music with bands and musicians here in the Bay Area like Eoin Harrington, Sean Leahy, Shantytown and much more. Keep updated on the calendar. Hugs to you.