What a great way to get this week started!!
I am interviewed for Impose Magazine's This Week In Pop! Talking about my upcomping show with Jonathan Richman!!
I hope you're gonna be there.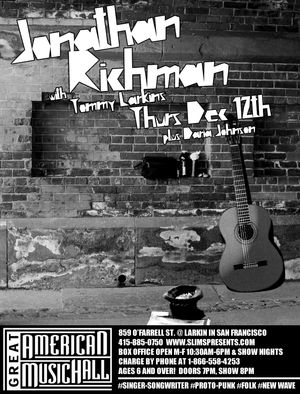 Jonathan Richman feat. Tommy Larkins plus
DARIA JOHNSON
Thurs.
December 12
Great American Music Hall
859 O'Farrel Street
SF, 6yrs+
Doors 7/
Show 8pm
For tix:
Jonathan Richman plus Daria Johnson tickets
My band:
Angeline Saris on Bass, Simon Rochester on Keys and Dan Herrera on Trumpet. And a special guest...you gotta come to see who it is!!
I had a great time with the interview with Sjimon Gompers of Impose Magazine. Check out the article here at this link:
Week in Pop: Daria Johnson, Son of Stan, Teenager { With support from Atlanta's MammaBear and more. }