Greetings and salutations to you my lovelies!
Daria here and it's been a very looooong time. I apologize for the long silence. I was dealing with some things and well...Life, eh? In the words of the great Stevie Wonder.  "I don't want to bore you with my troubles."
But, the good news is that the
Daria Johnson 4
will be performing live in concert in Oakland for the first time! You have to come out and see us! Not only because it's been a while since we've played but because the band is HOT! And...well...I want to give you a hug.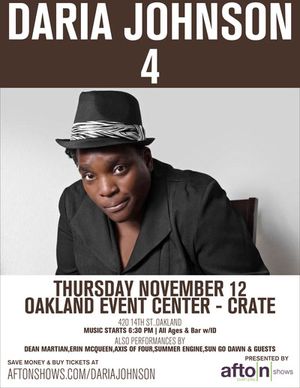 Daria Johnson 4
Thurs. Nov. 12
Crate - Oakland Event Center
420 14th Street
Oakland, CA
Show: 6:30pm
All Ages
DJ4 will feature the fabulous musicians:
Melissa Hubbell on bass
Chris Grady on trumpet and
Simon Rochester on keys
I've been working on some new material that I will share with you all at the show. Come check it out.
There is a great lineup of bands that night that will pleasure the musical eardrums of many! It's not yet determined who is playing when, but here's the list of performers/bands:
Jason Daniel
Erin McQueen
STEELNHAMMERS
Gianna Biagi and Guests
Axis of Four
Dean Martian
Summer Engine
Sun Go Dawn
Genesis Fermin
See!! Look at all that music! And if you buy your tickets today, you get the lowest price of only $11. That's right, $11 for ALL those bands! Get your tickets now! It not only makes you cool, it helps out DJ4 a ton by firming up our presence and...well...you save money. Sounds like a win/win to me! And you know what else? It's an ALL AGES show!! That's right, bring the young ones and give them the gift of music!
For tickets go to www.aftonshows.com/DariaJohnson
I miss all of you and am relly looking forward to playing this show for you all...and for. I honestly didn't think I would be able to so I am so happy and blessed that at this moment I can. Yay me! And yay YOU!
Buy your tickets now at 
www.aftonshows.com/DariaJohnson
before it's too late and it's sold out. Make it a group outing. Surprise a friend with a night of music. Reward your music loving child with a night of music. Date night, perhaps? Hey, don't we all some fun sometime?
Stay tuned to my website for updates about this show, like what time DJ4 hits the stage.
I spruced up the website a bit, hope you all like it. Like I said, it's been a while and...well...it's time to make a few things happen, like recording! I getting down and dirty with getting arrangements together so that I can finally make my album a reality. Stay tuned for this. Lots of things in the works and I am putting in the focus to make this happen. In the meantime, check my tune From Prince To Vince from my archive.
Love and blessings to you all. See you at the show!
Daria